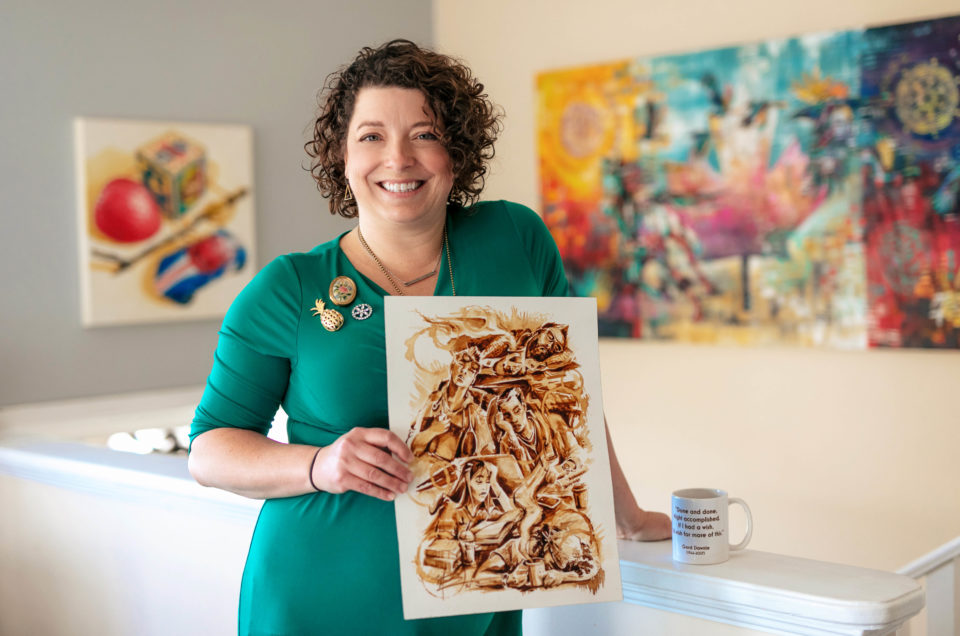 We recently had the opportunity to photograph a very talented artist who was one of the finalists in the #FacesofCanadianHealthcare artwork contest by Health Pro Canada.
Coffee Break was the name of the art piece by Melissa Leah Bruglemans-LaBell  of Airdrie, AB, and we had a fun session exploring the meaning of her art, and why this piece resinated with her.
Description of Artwork and Its Meaning
This is a 12×16 coffee painting on watercolor paper depicting those in our medical field who work incredibly hard, and unbelievably long shifts. Heroes and angels were spotted napping in various places and interesting positions throughout our country's clinics, hospitals and wards. Sleep-deprived and emotionally taxed they struggle to help others by placing the patients' needs above their own. They are not machines. They are human beings. Fueled by caffeine and protein bars, they battle beyond their physical capabilities against exhaustion. Longing for the simple comforts of a hot home-cooked meal, a warm bed and loving hugs.
Artist Bio
Melissa's work has been on display both nationally and internationally and has been characterized as being thoughtful towards the subject matters emotion and the energy of its movement. In the past her work included the use of bright contrasting colors, however, since 2017 her painting medium of choice has been mainly Liquid Coffee. Yes, COFFEE. Melissa's now utilizes negative space, splatters, coffee rings and sepia tones along with adding bits of colorful mixed media such as ripped vintage papers, wrappers, gold leafing and crystals to give her pieces even more depth and interest. Melissa lives in Airdrie, Alberta.
We photographed Melissa with her painting, and used her other artwork as a colourful background. Adding a coffee cup completed the story of how she uses this as a medium for her art.
---
---